Beginning as a Climber . . .

Perry-Smith's predilection for risk and his natural abilities as a climber surfaced early - one of his school mates at St. Paul's mentions in correspondence that Oliver would walk across four inch beams over fifty feet above the ground. Several years prior to his move to Dresden, he spent the summer at Bar Harbor, Maine, where - enthused by his grandmother's tales of watching climbers in the Alps - he scrambled down a series of cliffs to the ocean.

It appears that he began climbing very soon after arriving in Dresden. A pioneer of early routes there comments : "On the first Sunday of May, 1902, I climbed the Hinterer Ganskofel with a friend. Suddenly I heard in the chimney leading to the peak a shower of curses and coughs and the word 'goddam'. In a few minutes a young man climbed out, hesitated and then greeted us and sat down on the other corner of the summit . . . . The new arrival wore nailed boots, an English sports costume and a broad brimmed hat. . . . At the final wall he explained that in nailed boots he could not climb this alone. I went to the top and offered him a rope for safety. . . . He introduced himself as Oliver Perry-Smith of Philadelphia, and said he was climbing here to train for ascents in the Alps. . . . This was the beginning of a happy mountain companionship. Every Sunday we went together and soon were after new climbs. . . . We went on to the Blosstock. The beginning of the crack was funnel-shaped and difficult. . . . The next narrow chimney gave me no trouble, and, in a firm stance, I waited for Perry-Smith to follow. His girth was much greater than mine . . .[powerfully built, his companions described him as 'tall as a tree']. He tried with all his strength, but called that he must make a halt. Suddenly I heard rhythmic bum-bum-bum. At a distance of three meters the heartbeat of my friend was conducted through the rock!" - Albert Kunze in Jahrbuch für Touristik, 1954.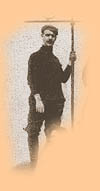 Albert Kunze



Perry-Smith went on to become one of the finest climbers in Europe, acknowledged by his German peers as a leader in the advancement of standards. He also loved to drive his Bugatti at high speeds through the German countryside! Read more about America's premier rock climber at the turn of the twentieth century . . . and of his German comrades, among the finest rock climbers in the world.