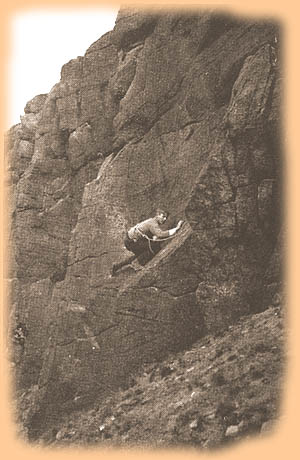 Siegfried Herford
on the Scoop, Castle Naze ca. 1910 (5a = 5.9)
A hyperactive child with a brilliant mind, at the age of 18 Herford entered Manchester University in 1909, excelling in mathematics and technical studies, eventually becoming one of the world's first

aeronautical engineers

. He also became Britain's most accomplished climber, reaching 5.9 levels or above before meeting a tragic end in 1916 in the chaos of the Great War. Siegfried enjoyed soloing, and was known to do risky leads - e.g., he made the first ascent of Ilam Rock [5.7], a crumbling limestone monstrosity hitherto "climbed" by throwing a rope over the top and going up hand over hand. [Read Siegfried Herford: an Edwardian Rock Climber (2000) by Keith Treacher]



H

erford took down-climbing and falling safely very seriously, and - as mentioned - actually climbed down the Flake Pitch before making its first ascent. "There is a small school which believes that some practice in falls is well worth having! Herford belonged to it, who practised long jumps down into boulders . . ." - Dorothy Pilley in Climbing days (1935).