Perceiving Climbing as Gymnastics . . . My Paradigm of

Climbing+Gymnastics






The Standardization of Competitive Gymnastics . . .



The early to mid 1950s was a major transitional period in international gymnastics. Although the sport had been around since before the 1896 Olympics, attempts at standardizing equipment, events, and judging criteria had not been entirely successful. For example, prior to 1952 women competed on the men's parallel bars. Soviet gymnasts, who had labored for years in relative secrecy, came onto the scene in the 1952 Olympics with an impact that shook the athletic world. They exhibited, for MovieTone News and the new medium of television, gymnastic routines of unprecedented difficulty, grace, and precision - astounding viewers and spectators in a global arena. What had been a minor and unheralded sport - unsure of its status - became an athletic enterprise of some consequence.






Azaryan . . .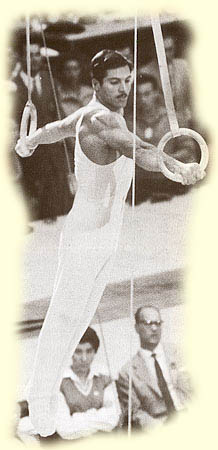 Early on, I had seen a potential connection between rock climbing and the dynamical and strength moves of formal gymnastics. This became an incontestable conviction when I happened to see a movie newsreel of the great Armenian gymnast

Albert Azaryan

performing on the Still Rings. Azaryan won the gold in two Olympics, and the story of his rise from humble village blacksmith to Olympic Still Rings champion is chronicled in the film Rings of Glory , in which he portrayed himself. I was riveted by his performance, and immediately set a goal for myself of duplicating much of what I had seen - as an amateur gymnast.

Albert Azaryan. Photo by Alan Burrows, 1960 Click

Developing, over several years, that kind of power, strength, controlled dynamism, and finesse on the rings was a rewarding experience, and applying it to the rock boosted my technical abilities and introduced an element of grace through strength that generated - at least to me - the perception of climbing as a kinetic art. Of course, I never came remotely close to the performance level of Azaryan - only in my dreams!

It was during this time, as I became aware of the potential artistic gymnastics implied for rock climbing, that I began to see the latter less as an extreme form of hiking, and more as a genuine athletic event - a brother to gymnastics rather than a second cousin.




My Gymnastic Philosophy of Climbing



By the mid to latter 1950s I was convinced that rock climbing should be perceived as an extension of gymnastics, rather than as an extension of hiking , which was the prevailing view. The Sierra Decimal System was well established by then, and clearly reflected the hiking paradigm: Class 1 was walking, Class 2 was steep hiking, Class 3 was scrambling, Class 4 was climbing with exposure and a rope, Class 5 was what we now call "trad climbing", and Class 6 was climbing with artificial aid. To break with this perception, I began to focus on very short climbs on boulders and small outcrops, treating rocks as a gymnast would treat his apparatus.

I also began, informally, to grade these problems on a numerical personal scale (1, 2, and 3) - similar to the existing gymnastic scale of difficulty (A, B, and C). Later I refined this to the old three level B-Scale for bouldering, assuming that the gymnastic scale would remain three-tiered, with moves shifting on the scale as greater difficulty emerged (a C move would become B, etc). B-3's were to designate a problem so difficult it had been done only once - on a personal level this would be the hardest thing I could do.

Nowadays, the gymnastic difficulty scale is A, B, C, D, and E - essentially open-ended. There are even Super-E moves. Will they become F moves? The bouldering scale due to John Sherman is V0 through at least V15, with no end in sight. However, a personal three-level scale works quite well for boulderers who are more concerned with personal progress than with competition. Jim Holloway and Klem Loskot have used such a device.


Chalk and Gymnastic Dynamics . . .

The use of

momentum

in gymnastics provided a key for a controlled

dynamical approach

to climbing. It seemed perfectly reasonable to me that rock climbing - as a kind of gymnastic activity, rather than an extension of hiking - should have a substantial dynamic component. Simple jumps and "lunges" had been done for years - but difficult skilled and precise gymnastic "releases" upon rock required greater strength, more effort, and more practice. The age of the dyno had arrived (although the word itself didn't appear until the late 1970s). The serious use of momentum became a choice of style, and not simply a desperate technique of last resort. And no gymnast would work on challenging releases without chalk - neither should a climber.