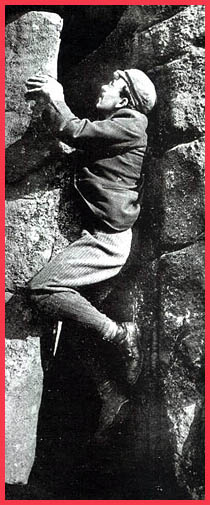 Owen Glynne Jones (1867-1899), an early gymnastic climber - some call

the first athletic rock climber

- is seen here on Derbyshire Gritstone. Probably the first real "tiger", he devised a difficulty rating system that evolved into the one used in Great Britain today. Jones, who began his short but intense climbing career in 1888, had a strong hand in establishing hard free-climbing as a proper end in itself, rather than merely as training for the Alps, although his tactics involving the use of the rope created some controversy.



N

evertheless, it appears that he was climbing at the 5.7 and 5.8 levels, perhaps somewhat higher on boulders, in the mid 1890s. This should have put him at least on a par with free-climbing pioneers in the Elbsandstein area at that time, so that he could be considered one of the real forerunners of modern rock climbing.



Photo

Abraham Bros (1890s)

As a young man, he showed both mechanical and mathematical aptitude, and at one point was an assistant in a mathematics department. With a first-class Honours degree in experimental physics, and unable to obtain a professorship, he became

physics master

at the City of London School.

Never one to avoid recognition, he humorously referred to himself as "the Only Genuine Jones". He is described as having boundless energy and enthusiasm, and possessed an agreeable personality. It seems that everyone liked him - except Aleister Crowley. The following is a legendary story describing Jones' great gymnastic strength, related by the climber and photographer George Abraham, one of his staunchest supporters:

"

O

ne Christmastime an ice axe was arranged as a horizontal bar . . . He [Jones] grasped the bar with three fingers of his left hand, lifted me with his right arm, and by sheer force of muscular strength raised his chin to the level of the bar three times."



F

act or fiction? You decide. (When in my best physical condition, I was able to do a one-arm pull-up holding 20+ pounds in the other hand. I never pushed it further, but I suspect I might have been able to add another 10 pounds or so.) One might add here, that George Abraham was said to exaggerate at times, and even to tilt his camera to make a climbing shot more impressive! To put this suspect claim in proper context, go to another section of this website:


In

Climbing Days

(1935), the author,

Dorothy Pilley

, speaks of Jones' rumored feats: ". . .

O

wen Glynne Jones, hero of innumerable unemulatable acrobatic feats.. . .That he could pull himself up on the top of a door ten times by the tips only of those slim fingers . . . I had known for years.. . But that he could make a standing jump in climbing boots from one platform to another across a single line of rails was a new and wonderful item of information." Jones was fondly referred to by his many friends as

The Gymnast

.

One incident in his short but splendid climbing career is rather bizarre: To treat himself for a case of frostbite, he plunged his hand into a vat of boiling glue. The result was a hand deformed into a kind of permanent claw, which he cheerfully rationalized as being of benefit for climbing!

Owen Glynne Jones died on Dent Blanche in an accident in which he and a fellow climber were holding steady an ice-axethat was jammed horizontally in a crack and being used as a boost for a guide to reach a hand hold. The guide couldn't retain his purchase and fell on Jones and his friend, and all three plummeted down the mountainside, pulling with them a fourth member of the party who had been stationed about 30 feet away. All, including a fifth climber, were roped together, and the last man desperately hugged the rock, waiting for the inevitable jerk - it never came, as the rope between him and the others had apparently been secured and snapped cleanly in two. This fifth climber, a gentleman named Hill, could not descend the route by himself, so managed to go a slightly different way and reached the summit, then down, collapsing in exhaustion and delirium from time to time.

The day before he was killed, as he and

W. M. Crook

walked down the Arolla Valley, he told his companion, who had expressed surprise at the vast amount of climbing Jones was doing each week, "

Y

ou see, there are only a few years in which I can do this sort of thing, and I want to get as much into them as possible."