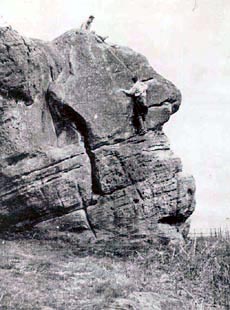 The Scoop


Stone Farm Rocks ca. 1941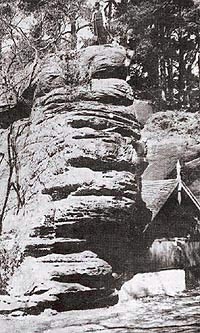 Hut Boulder


High Rocks ca. 1941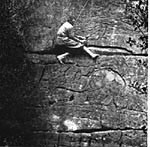 Unclimbed Wall

, Harrison Rocks
ca. 1941



Although the 1930s brought forth a new generation of climbers who spent considerable time on small rocks near the larger cities, many would have agreed with H. Courtney Bryson, who wrote in

Rock Climbs Around London

, "

E

ven the enlarged boulder problems described . . . are pranks, practice pitches . . . and proceed from the light-hearted joy which exists in the hearts of those who love mountains and think of them often."

Nea Morin writes, in 1946, "

A

s children, my brothers and I climbed regularly on the rock outcrops on the Turnbridge Wells and Rusthall Commons, and some of the climbs we did were quite difficult . . . But it was not until 1926, after a visit to one of the extensive groups of sandstone rock near Fontainebleau, on which the Paris members of the Group de Haute Montagne had for many years made a practice of climbing at weekends, that I thought of exploring seriously the possibilities of my home town. The result was the discovery . . of the Harrison Rocks and the High Rocks . . . Many mountaineers tend to regard 'boulder climbing' as rather childish, and if it were to develop into an entirely separate sport there might, perhaps, be some justification for this view. There is no doubt, however, that this type of climbing affords excellent training . . . however fascinating this type of climbing may be, it should not be regarded as an end in itself, but as a means to an end . . . "



E

. C. Pyatt, the author of the guidebook (in which the above is an excerpt from the Foreward),

Sandstone Climbs in S. E. England

(1947), writes in the preface, "

T

his book places on record the very considerable developments which took place on the sandstone outcrops in Kent and Sussex during the War years." He speaks, in the introduction, of British rock climbing : "

N

o longer mere practice, it became eventually an end in itself and developed its own methods and traditions. Outcrop climbing

[bouldering]

has not yet reached this stage and it is questionable whether it ever will; it would not appear to possess sufficient potential for independent development to become a sport of its own."

Of

Harrison Rocks

, where climbing had begun in the early 1930s, he says "

L

ittle new development took place until 1941, when E. R. Zenthon created a new fashion for London climbing by making a girdle traverse of the outcrop - a 'route' over 1,000 feet long with more than 20 pitches . . . Finally, in 1945 began a new wave of exploration under the inspiration of C. A. Fenner . . . the whole standard of climbing was advanced considerably . . . "



C

ontinuing, the author says "

R

ubbers (or klettershue) are the only suitable footgear, and nailed boots should never be worn." He adds, after alluding to the frequent use of top ropes, "

A

lmost all climbs have been led . . . pitons have never been used on these outcrops, and certainly never should be." He does admit that in rare cases chockstones have been inserted in cracks.