The Man:



Oscar Johannes Ludwig Eckenstein was born in Canonbury on September 9th, 1859, to a German father and an English mother. The father, a socialist, had departed Bonn in 1848, immigrating to England, where his politics were more acceptable. Oscar, a socialist who frequently denigrated the policies of his country, became an active member of the National Liberal Club. He had two sisters, Amelia and Lina. Lina, like Oscar, was politically active, particularly in Women's Freedom movements during the first part of the twentieth century. A medievalist, she was also a prolific writer in a variety of other topics. Several observers have concurred that Oscar belonged to a family having considerable intellectual abilities.

Eckenstein had athletic and musical talents and did very well at

gymnastics

as a boy, as well as playing the bagpipes. As a young man he showed unusual scientific and mathematical aptitude and was educated accordingly - first, at University College School, and later, in London and Bonn, where he studied chemistry. He was an amateur carpenter and mechanic, and impressed many with both the breadth and depth of his knowledge in a variety of other, more technical or academic subjects. Eckenstein lived, at first with his mother, and later alone in his family home in South Hampstead from 1893 until his marriage twenty-five years later.

He enjoyed mathematical puzzles and on one occasion forced Sir Gerald Kelly (brother-in-law of Crowley) to wait nervously in his hall as he set up, throughout the rooms of his home, an elaborate lay-out in order to attempt to solve a challenging problem:

Kirkman's Schoolgirl Problem

- introduced by the Reverend Kirkman about 1850 - for which Eckenstein assembled a bibliography, later published in

Messenger of Mathematics

(1912). He also compiled a collection of books, manuscripts, and original papers by

Sir Richard Burton

, whom Eckenstein seems to have greatly admired, presenting them to the

Royal Asiatic Society

before his death. H. W. Millhouse of Boston mentions having heard Eckenstein speak often of Burton, and of his and Sir Richard's strong interest in Eastern philosophies, particularly those related to

mental telepathy

. The Society, in the early 1950s, finally got around to examining this collection and members were astounded by the quality and quantity of material included. Of course, O. E. was long gone, and unavailable for the questions so generated.

Eckenstein dressed shabbily and sported a bushy beard. In New York on business, according to a friend, he wore straw sandals, in bad weather or good. He preferred an old Greek fisherman's cap - perhaps befitting the image of a socialist he had of himself - and smoked pipes (that might have been found in the parlor of Sherlock Holmes), being addicted to Rutter's Mitcham shag. He had, by most reports, an abrading personality, and was not slow to show his displeasure. Very didactic and frequently irritating, when he felt he was right, the

"coefficient of his mental elasticity was zero"

(Crowley).

On one occasion he became furious and called a meeting of the

Climbers' Club

to rebut the assertion that his leg had been 'shaky' while on the exploration of a new route, as George Abraham had implied when writing about the attempt. Thereafter, in his absence, a leg tremor due to prolonged strain was called by some, including

R. L. G. Irving

, an

"Eckenstein"

.

There is evidence that he was as concerned with debunking the claims of other climbers as he was in recording his own ascents, which he did in terse notes in hotel books. He had no tolerance for the

Alpine Club

, with its aging Victorian mountaineers, and many of its members shunned him as well, put off by his demeanor, his socialist leanings and his Teutonic and Jewish ancestry.



H

e was quick to take offense, and even quicker to give it. However, Crowley mentions the fact that Eckenstein tried to teach him the art of

controlling the mind

, while on a climbing trip to Mexico. This tutorial was a result of Eckenstein's desire to disengage Crowley from what he felt were Crowley's ridiculous forays into what he called

magick

.

Oscar Eckenstein, shabbily dressed, presented anything but an appearance of affluence. He emphatically stated that a

"mountaineer should be a vagabond"

. However, appearances can be misleading. According to a relative who knew him well for over 14 years, Eckenstein was employed and drew a regular salary from the

International Railway Congress Association

, and was able to travel abroad - first class - whenever he wanted to. His fellow travelers mistakenly thought him an

eccentric English millionaire

.

[When I discovered this, I thought immediately of Yvon Chouinard - not only are the two climbers roughly the same height and build, with, I suspect similar gymnastic skills, but both are intelligent & inventive, skilled artisans, both independently developed short, maneuverable ice-axes, both contributed to the design and use of crampons, and both shun "formal" dress. Chouinard calls himself a "wealthy dirtbag". And both of these superb climbers are not by nature reticent about expressing their opinions! Chouinard, however - considerably wealthier than Eckenstein - led on most of his best climbs and was proud of his widely acknowledged, bold spirit. ]

As for the quality of his work, H. W. Hillhouse, who knew Eckenstein when the latter represented Great Britain at a meeting of the Congress in New York, remarks, ". . .

I

found O. E. to be years ahead of the times in thought and scientific invention of devices for the betterment of railroading . . . " Although Eckenstein had many enemies, no one denied his intellectual abilities.






. . .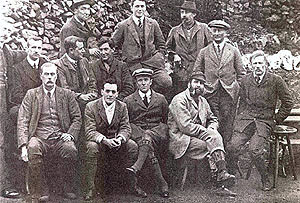 Photo of the Pen-Y-Pass Group: 3rd from left, middle row is

George Mallory

; top row, right is

Geoffrey Young

; far right is

Archer Thomson

; seated with pipe is

O. Eckenstein

- 1907,



Photo

A. W. Andrews


Serious Play:





C

rowley and Eckenstein made quite a pair. Here, Crowley gives us a glimpse (circa 1896) of a playful yet attentive attitude about trivial divertissements that most climbers demonstrate at one time or another:

"

O

n off days at Wastdale Head, it was one of our amusements to throw the boomerang. Eckenstein had long been interested in it and constructed numerous new patterns, each with its own peculiar flight. As luck would have it, Walker of Trinity came to the dale. He had earned a fellowship by an essay on the mathematics of the boomerang. The theoretical man and the practical put their heads together; and we constructed some extraordinary weapons. One of them could be thrown half a mile, even by me, who cannot throw a cricket ball fifty yards. Another, instead of returning to the thrower, went straight from the hand and undulated up and down like a switchback, seven or eight times, before coming to the ground. A third shot out straight, skimming the ground for a hundred yards or so, stopped as suddenly as if it had hit a wall, rose, spinning in the air to the height of some fifty feet, whence it settled down in a slowly widening spiral. Obviously, these researches bore on the problem of flying. Eckenstein and I, in fact, proposed to work at it. The idea was that we should cut an alley through the woods on that part of my property which bordered Loch Ness. We were to construct a chute and start down in on a bicycle fitted with movable wings. There was to be a steam launch on the loch to pick up us at the end of the flight. We were, in fact, proposing to do what has now, in 1922, proved so successful. But the scheme never went further than the construction of the boathouse for the launch. My wanderings are to blame." (

Confessions of Aleister Crowley

, 1922)

Despite the considerable differences in personalities, Crowley and Eckenstein were very close friends. Shortly after Eckenstein's death, Crowley penned his recollections of the man in what would be the

Confessions of Aleister Crowley

. Here is a lengthy excerpt from that work which includes a putative mysterious, almost magical incident that befell Eckenstein, as well as humorous and/or revealing anecdotes, one of which involves Eckenstein's friend "Legros", the son of the famous painter,

Alphonse Legros

. :

Crowley on Eckenstein . . .






The Alps: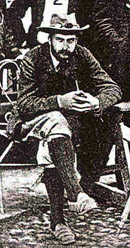 1890s



E

ckenstein went up his first peak in 1872, at the age of 13. His first recorded ascent in the Alps was in 1886. He did a considerable amount of climbing in the Alps, either accompanied by a guide or with friends, although there is no evidence he led any of these climbs. Nevertheless, some of them were quite bold - and objectively dangerous. It is an interesting fact that Eckenstein introduced the famous German climber and academic,

Paul Preuss

,

to the western alps, over two summer seasons.






A Strange Phobia . . .





A

ccording to Crowley, Eckenstein feared only one thing:

Kittens

. He could deal with full grown cats, but had an intense aversion of their more youthful incarnations.


Bouldering and the Creative Spirit :

The appeal of mathematical and scientific work, his very precise nature, his love of climbing and his gymnastic talent may have influenced O. E. to focus what at that time would have seemed to be an unusual amount of his climbing energies on

boulders

, exploring and perfecting technique that would advance difficulty levels on longer routes. It seems clear, though, he was bitten by the bouldering bug and enjoyed the sort of strenuous play that became popular fifty or sixty years later. He may have been the first climber to

appreciate bouldering

for its own sake.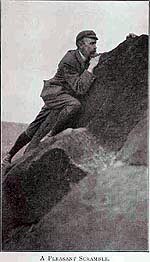 Victorian Pre-Balance Climbing

Strange as it seems now, Eckenstein may have been the first climber to propose that one need not have large hand and footholds to climb, but, rather, small holds would suffice if one trained the fingers and studied the role of

balance in rock climbing

- and where better to do this than upon boulders.

Slab climbing

would become quite a different sort of experience under Eckenstein's influence - prior to his time climbers frequently leaned into the rock, using the friction of their clothing to adhere to the surface, as is seen here in the photo of an unidentified late Victorian climber.

Eckenstein was seriously opposed to publicizing climbing for a mass audience. Because of this, perhaps, and a quarrelsome, non-accomodating nature, one finds scant reference to him in mountaineering literature of that period.

Alan Hankinson says "

F

or him climbing was a personal, private, almost mystical experience, more a matter of communion than of community, something that might be damaged irreparably by vulgar publicity."

This attitude put him opposite

Owen Glynne Jones

, who used every opportunity to publicize his adventures. By doing so, however, Jones initiated a change in paradigm and is now remembered as the first great gymnastic rock climber, whereas few know of Eckenstein's considerable contributions to bouldering, rock climbing, and ice climbing, although his trips to the Himalayas are fairly well documented.