www.johngill.net
Bouldering Companions
---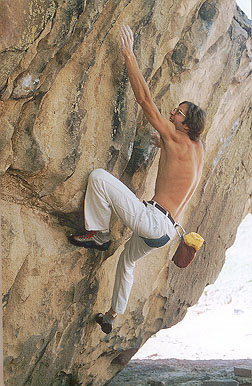 Warren Banks: This is a photo of Warren climbing on Fatted Calf Boulder near Pueblo in the 1970s. I met Warren shortly after I moved to Pueblo in 1971 to take a job at the college here. His friend, Steve Cheney, a well-known Colorado Springs climber, mentioned to Warren I had moved to Pueblo. Warren gave me a call, and I explained the sort of climbing I was interested in. Very soon after that he accompanied my wife and me on a trip to Flagstaff Mountain at Boulder, where he was initiated into the bouldering culture. I can still see the big grin on his face!

For the next several years Warren and I pursued the most rewarding aspect of the sport: searching out and exploring new bouldering gardens. We discovered and established a number of problems in Little Owl Canyon, the Ripper area, Fatted Calf Canyon, Lost Canyon, and several other sandstone and granite areas in the plains and wooded mountains around Pueblo. Warren was tall, thin and powerful and developed great skill as he and I worked on the beautiful Dakota Sandstone. He became interested also in longer climbs, particularly granite cracks, and spent a lot of time with several rather famous climbers from the Colorado Springs region at Turkey Rock and elsewhere, practicing this painful but satisfying art.





---


Warren joined the Navy a few years after we met, and traveled the world on an aircraft carrier. After his first tour, he left the service for more attractive opportunities. He married a charming girl named Andy and settled into a responsible position as an engineer at the huge, nearby Commanche Power Plant. He and Andy had two children, Tyler and Daniell, who are now grown.

Warren drifted away from rock climbing and took up the new sport of ice climbing, and was joined by his son Tyler, who preferred the fragile and frigid medium over warm, sculptured sandstone. In his early 50s, my old friend scales the most intimidating frozen waterfalls Colorado has to offer, and seems to enjoy it! Scares me just to think of trying to cling to the slippery stuff! However, I think I've seen some evidence that Warren is back on the rock, as well. I hope so!

Over the years we enjoyed quite a few Tequilla Sunrises and Corona Beers, and discussed esoteric philosophies. Warren introduced me to the writings of Carlos Castaneda - for which I have sincere appreciation, as this led to a profound personal experience. Warren is very intelligent and witty and was a delightful bouldering partner. He's also the kind of climber I most admire: a person who, though highly proficient in climbing, accepts other serious responsibilities in his life. May you continue to thrive, skating up those giant icicles, Warren!


---