www.johngill.net
Bouldering Companions
---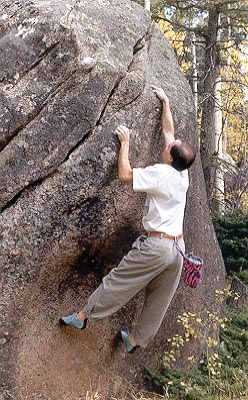 Curt Shannon: Here is a photo of Curt bouldering near Pueblo in the 1990s. He's just made the crux move on the tiny Microshield problem – where my foot slipped off and I tore the right biceps off my arm back in 1987!

I met Curt in 1982 when he called me while driving through Pueblo and arranged to pop by my campus office. Since then we have bouldered together many times, in Pueblo and elsewhere. As my abilities have declined since I gave up serious bouldering after my accident, his have continuously increased, so that now, at the age of 47, he's doing some remarkable things on tiny little holds that would have given me real trouble back in my prime.

Curt has done many of my old classic problems, and has put up quite a few difficult test-pieces as well. In 1986 he did "To Have and To Hold" at Minnehaha, in Spokane – a "finger-wrecking" V8 ( Stone Crusade). A high school gymnast (pommel horse – placed 8th in Minnesota State Tournament in 1973), he climbs with elegance and poise upon holds almost too small to see. He presently is practicing his craft in the Phoenix area, where he has lived for several years with his (lawyer and ex-gymnast) wife, Lisa, and son, John.



I visited Curt while my wife was in meetings at a retreat at the Biltmore in April of 2003. Curt drove Bob and Josie Van Belle, Kerwin Klein, and me out to Oak Flats where three of us, suffering from minor injuries, watched Curt and Josie scamper up everything in sight. Nearby, the Phoenix Bouldering Contest was taking place.



---



Curt has had an active professional life (and I don't mean climbing), working as the director of a semiconductor materials lab in Los Angeles, starting the Arizona Stock Exchange with Steve Wunsch, and doing international sales and investment banking work. I admire climbers like Curt who have substantial lives outside our demanding sport. He actually began climbing as a student of a scientist named John Arthur, who, in turn, learned of the sport from the climber and famous scientist, Lester Germer. Then Curt met the great pioneer rock climber and physicist, John Stannard, at a meeting in Fort Collins in 1982. The two of them became fast friends and climbed together frequently for a number of years. Curt had purchased a home in Joshua Tree in 1982, and he and Stannard and others climbed there extensively, with Curt doing over 1,000 routes in the Park over the years.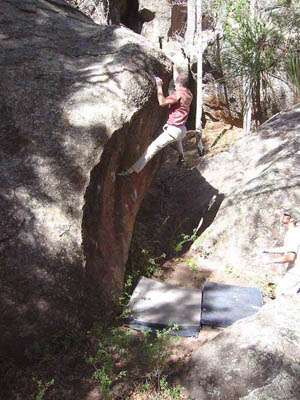 In 1992 he moved to Arizona and started making frequent trips to Hueco Tanks. He managed to do all the problems on the north face of the Mushroom Boulder that were described in John Sherman's first guide to the area.


---


Curt is an extremely intelligent guy (and belongs to several high I.Q. societies), as his fellow climbers on rockclimbing.com have discovered, reading his witty and incisive posts. He and I have traded puzzles over the years, and we both got hopelessly bogged down in Stephen Wolfram's A New Kind of Science! He is a valued, life-long friend and one of the very top boulderers in his age bracket. Keep up the great climbing, Curt, but look out for young John – in 10 years, with his good genes, he'll climb circles around you! (2003)









The old man cranking on Gault's Pet Tree at Gloria's Rock at Flagstaff, AZ (photo 2003 by Bob Van Belle)




---