www.johngill.net


Climbing Companions
---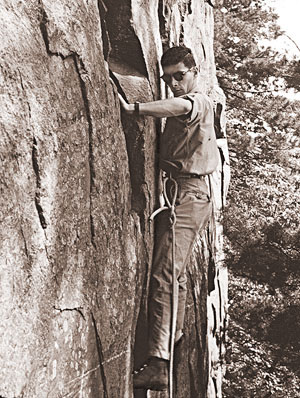 Michael Fain : Michael grew up in Chicago, attended public schools there, and did so well at academics that, in 1952, he was admitted to the University of Chicago at the age of 15. During his freshman year he discovered both climbing and fencing, starting the UC Mountaineering Club and joining the fencing team. At that time in the midwest, for most, "climbing" meant mountaineering and rock climbing was seen simply as practice for alpine adventures - an attitudinal environment similar to the one found in Great Britain prior to the 1890s. Michael: "Climbing in the 1950s, particularly in the midwest, was not very popular, and we felt more as pioneers in the sport."

Michael Fain at Devils Lake, 1950s

Michael found that the two sports - superficially distinct - had, in fact, underlying similarities: "What was serendipitous was that both climbing and fencing had many of the same elements that excited me: simultaneous physical (balance, conditioning, coordination) and mental challenges (strategy, self reliance, thinking ahead) where I was rapidly expanding the boundaries of what I had thought I was capable of doing."


Michael became quite proficient in fencing, in all three weapon categories, participated in numerous competitions in college and afterwards, in both the US and Canada, and won a drawer full of medals. He and friends did their practice climbing at Devils Lake and on various walls and bridges in Chicago, learning technique and skills necessary for leading in the mountains. In the mid and late 1950s climbers practicing at the Lake frequently concentrated on lead climbs no harder than 5.7 or 5.8, feeling that was a reasonable upper limit for larger scale mountaineering. A few top ropes may have been a little harder. The spirit of bouldering was only just beginning to be kindled by eccentrics like the onion farmer, Dave Slinger. By and large, the venerable Chicago Mountaineering Club, directed by such notables as the Stettner brothers and Bill Primak - who wore the strangest shoes I've ever seen on a climber - considered its organized weekend outings training for the mountains.



---


I met Michael in the Fall of 1958, when I enrolled at the University to study meteorology under the auspices of the USAF. He was Engineering Supervisor of the Hydrodynamics Laboratory, and his boss was Dr. Fultz, one of my instructors. We became friends quickly, and I joined Michael and the mountaineering group for training sessions on the local architecture.

We made several weekend trips to Devils Lake during the Fall and the following Spring. I had made a brief visit to the Lake in 1955 and was delighted to return to the beautiful quartzite cliffs and pillars. Those trips are among my fondest memories, thanks in large part to Michael, his brother Dave, John Ohrenschall, Ernie Kuntzle, Bob Kaylor, Peter Gardiner, and a few other local enthusiasts. I can remember us driving all over Chicago, picking up companions on a friday night, before making our way north to Baraboo. On more than one occasion I slept in the back of Michael's station wagon, as he slept in a small mountain tent. I can also remember drinking beer and eating locally grown green apples - don't do this simultaneously . . .

Those of you who climb there now may think "Michael's Project" was my friend's undertaking, but in fact it was an aspiration of Peter Gardiner's in the late 1950s or early 1960s.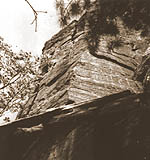 Michael had a playful side as well. One of my memories is of Michael encouraging me to try Brinton's Crack as (what we would now call) an onsight lead. It would be the second such ascent. In cooler and drier weather at the Lake I had already on-sight led or free-soloed (these expressions did not then exist) several climbs of 5.9 and greater difficulty, so this should be trivial. Why was Michael grinning? After I banged in a solitary piton for protection fairly high up, wearing frictionless Zillertal climbing boots, and feeling some unexpected slippage on what seemed to be large handholds, I began to understand. Damn, I couldn't get to the small block of chalk I carried in a shirt pocket (years before the advent of chalk bags) either. Indeed, Brinton's provided more of a challenge than I anticipated - it was a hot, humid day in late May of 1959, making the slick quartzite even more tenuous, and the whole time I was on the climb I could hear a choir from a local church singing what I thought were funereal hymns! By the time I topped out my face was as red from embarrassment as from the sun. The things we remember years later . . .



---


Back at UC, there were afternoons when Michael would be practicing his fencing while, on a different floor, I would be working out with the gym team and assisting coach Bob Kreidler. I can also remember us rappelling from the football stands, and trying to climb some of the many flying buttresses on campus, as well as practicing climbing moves inside the gymnasium (that was so unusual there are one or two people in the area who still remember me!) But I never joined Michael when he would venture out in midwinter onto the frozen slabs on the Lake Michigan shore to practice chopping steps in the ice!

Michael was a wonderful friend in those days, and we dined together as well as climbed together. When I departed Chicago during July of 1959, it was with a touch of sadness at leaving such companions. But the memories have helped compensate for the diverging paths we took, as we each changed careers and adjusted to a world so very, very different from the 1950s .



---



My wife Dorothy and I visited Michael and his wife Judith Barnard at their beautiful home in Aspen in 2001 - a long overdue reunion for Michael and I. Since that time we've kept in touch, and Dorothy and I drove up to Aspen this summer to see Michael's photography show, for he has become a superb black & white photographic artist. Several of his prints are the best I've ever seen. He's published photos in Scientific American and in Chicago newspapers and magazines. During the intervening years - beginning in 1980 - Michael and wife Judith became best selling authors of contemporary fiction, publishing under the pseudonym, Judith Michael. An eleventh novel will appear in February of 2005.

Michael and I are about the same age, and, with our respective wives, each have three grown children. But Michael has me punched out in the next generation: He and Judith have 5 grandchildren, while Dorothy and I have but 2 !

I encourage you to visit Michael's website and see for yourself examples of his artistry : www.michael-fain.com



---