www.johngill.net
Bouldering Companions
---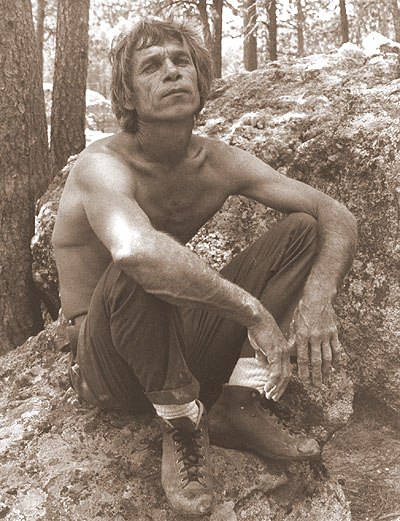 Bob Kamps at Sylvan Lake in the 1970s
Bob Kamps: I met Bob in the late 1950s in Grand Teton Park. He already had a formidable reputation as one of the best Yosemite climbers, and was equally adept at extremely sensitive face climbing and difficult aid work. And he took bouldering seriously. Over the years, Bob and I bouldered and climbed a bit together in the Tetons and Needles (SD), and I enjoyed the company of he and his wife, Bonnie.

Bouldering in the Needles 1974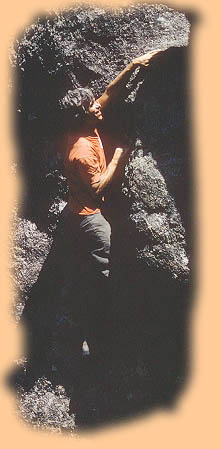 After a stint in the USAF in the 1950s Bob got a degree in elementary ed (as did Bonnie) and they both started teaching in the LA public school system. A few years later Bob decided that teaching didn't appeal all that much, and quit his job to become an entrepreneur and private businessman.




Happy Bouldering!





And he continued to climb, and climb, and climb . . . I met him in April of 2003 near Phoenix where he had just finished a 5.10a sport climb. This guy is ageless perfection, and I have enormous respect for him, both as a climber and a person. Bob, in his long career, has shown more poise on thin faces than anyone I know. He asked about the kind of soloing I do, and said "yes, I could do that". (I suspect he could do much more!)










---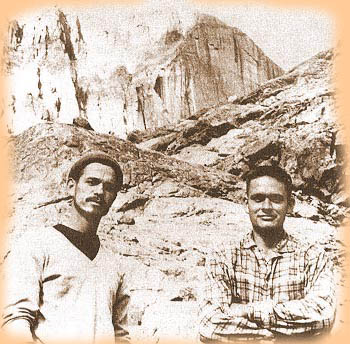 Of the first ascent of the Mace (5.9+) in Arizona in 1957, Pat Ament (in Wizards of Rock ) says "Able to sneak past a crux like a cat, the wily Kamps was becoming known as one of the most remarkable climbers in America". And in 1960, Bob and Tom Frost climbed the Blank , probably the first 5.10 in California. But his talents went far beyond short rock climbs: for years climbers had speculated about the rigors of the Diamond on the east face of longs Peak in RMNP, and in August of 1960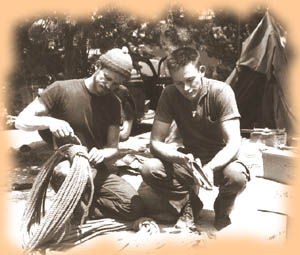 Bob and Dave Rearick succeeded in climbing the monstrous thousand foot cliff at 14,000 feet. They used aid in places and free climbed elsewhere, and they gained widespread recognition of their feat. Time Magazine (inaccurately) reported Dave saying "We burned our bridges behind us!" The pair were given a celebratory parade through Estes Park.










---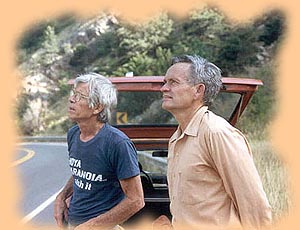 The old warriors in 1992 in Colorado
Photo B. Kamps

---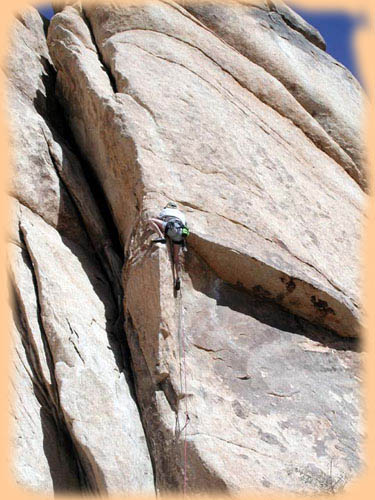 Kamps continued to set standards during the 1960s, with climbs like the Inverted Staircase (5.10b) in Tuolumne Meadows – Ament says: "With his renown footwork, edging in Cortina boots, Kamps made impossible-looking smooth slabs go somewhere – and, as always, in impeccable style. He was at the leading edge of free climbing in Yosemite." (I climbed in Cortinas as well, but never felt as secure on edges as Bob did !). In 1967, Kamps, with Mark Powell, led the first free ascent of Chingadera (5.11), at Tahquitz. During this climb, Bob placed a bolt on lead (the old fashioned way – muscle and hammer) that is one of the most spectacular bolt placements ever. Climbers today have trouble just clipping in to it, and it's abundantly clear that Kamps was at the very leading edge of delicate face climbing at the time.

Bob in March, 2003, as he led a climb in Joshua Tree at the age of 71
Photo Bonnie Kamps





---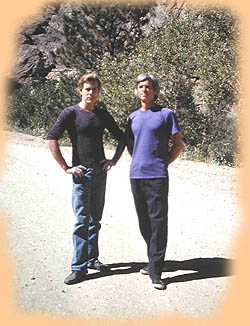 Pat Ament & Bob, Eldorado 1977
Photo courtesy Bonnie Kamps



Bob and Bonnie stopped by to spend the night a few years ago – when he was still a youth in his mid 60s – and he was busy leading 5.11 sport climbs. We compared notes about geriatric training techniques and reminisced about old times. Bob has had his share of physical problems - all of us do who have continued any semblance of youthful gymnastics into old age. His shoulders were worn, and he eventually tore and lost one of his biceps, but he preservered. A tough, determined guy. The next morning he was off to Shelf Road to enjoy its strenuous verticality.









---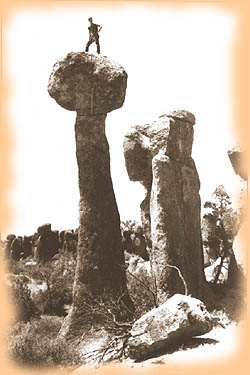 Bob on a desert spire in the 1950s
Photo Dave Rearick from The Climbing Art, No. 22
---
Bouldering . . .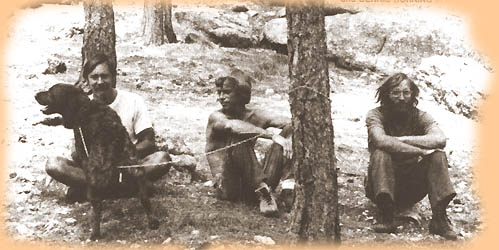 Me, Bob, and Dennis Horning at Sylvan Lake, 1974
Photo Paul Piana

---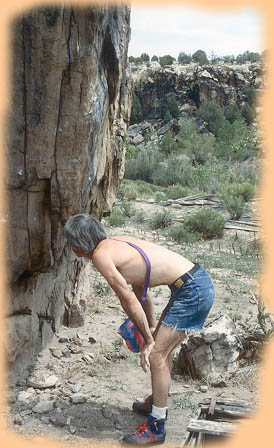 Bob dominated the scene at Stoney Point year, after year, after year. In the Tetons, back in the 1950s and early 1960s we combed over the Jenny Lake Boulders and went off into the bush looking for no-hands problems, at which Bob excelled. I can still see him poised and in perfect balance as he tiptoed up the center of the no-hands boulder at the old Climbers Campground - only the faint margins of his soles making contact with the rock - next to free-aerial dynamic moves, the most ethereal of climbing styles.

In the Needles, he and I spent hours at the Sylvan Lake Boulder and other spots hidden among the towering spires. We had different physiques and different approaches to our craft, so that Bob would prevail on some problems while I prevailed on others. He was a great competitor.

On one problem that I had done with one of my favorite swing moves, avoiding what lay in between, Bob had substantial difficulties, being shorter than me. He finally managed the route using a series of small holds, then said "Now, you do it using the intermediate holds!". I failed: thus we had before us one route with two problems, and neither of us could do what the other had done!


Penny Ante Boulder, Pueblo 1978


It was great fun and a privilege for me merely to be around this marvelous American icon. One of the finest rock climbers ever, and a man of intelligence, sly wit, and undeniable charm. (2003)










It is with great sadness that I report the death of Bob Kamps. Bob died on March 2, 2005 while climbing in a gym. He suffered a massive heart attack, from which he failed to recover. Bob was a truly great American climber - he was a hero for me. God bless him . . . his spirit will live on. 1931 - 2005











---