www.johngill.net


Bouldering Companions

---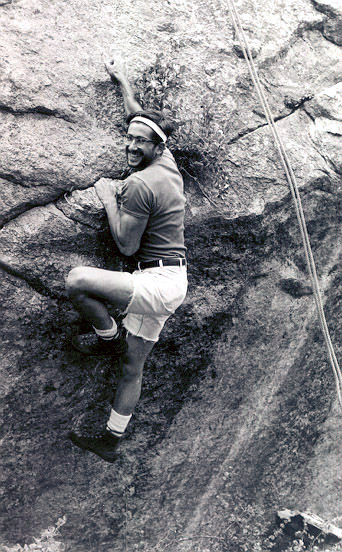 Rich Goldstone : (Richard Goldstone) This is photo was taken in the mid 1960s on some rocks off the road to Bear Lake in Rocky Mountain NP. I first met Rich at the Jenny Lake boulders in 1961, when he was about 17. He became very interested in bouldering and in gymnastic-inspired training techniques for bouldering and rock climbing. Rich became adept at rope climbing and improved the carryover to rock by occasionally climbing very thin cords, rather than the traditional 1.5" diameter. When climbing traditional rope he would never focus on speed, but climbed slowly, taking maximum reaches with one hand at a time. He was also one of the first climbers to use surgical rubber tubing for learning various strength tricks, referring to the tubing as an FFD (you'll have to ask Rich!).

He quickly became an exceptional boulderer and one of the most graceful rock climbers I've known. We spent many hours in the 1960s bouldering together in the Tetons and Black Hills, pulling torn flesh off our fingers and using vast quantities of chalk and tape! We also climbed together at Dixon Springs, where Rich challenged the existing standards (even at temperatures of 5 degrees F). Back east, he became a legend in the Gunks, climbing many difficult routes, including the FA of the thin face climb, Farewell to Fingers(5.11) in 1970. Rich climbed widely, and made notable FAs in the Needles of the Black Hills, including the first free ascent of the famous and intimidating Needle's Eye Spire.

Dr. Goldstone is a mathematician, and teaches at Manhattan College in New York State. (When he and I and R. F. Williams got together on the rocks it was to answer the question: how many mathematicians does it take to solve a boulder problem? Three, apparently.) Rich was one of the best boulderers of his generation, and a wonderfully witty and skilled climbing companion!


---