The recorded use of ladders in gymnastics goes back at least to the late 1700s.

It appears that sometime between 1778 and 1793, Johann Jakob Du Toit ,

while a teacher at

the Philanthropinum in Dessau, Germany, introduced the oblique ladder as an apparatus to be used in physical education. He advocated walking up the rungs of the ladder without using the hands, and swinging from its underside and climbing hand-over-hand.



---


GutsMuth, who taught at the Schnepfenthal Educational Institute from 1786 until the early 1830s, benefited from Du Toit's recommendations at the Philanthropinum, since the Schnepfenthal Institute was designed to imitate the Dessau facility. In the late 1700s, he used the ladder as Du Toit had recommended - standing against a wall - for student exercises. Here is the entire passage on ladders found in Gymnastik für die Jugend (1793), (my translation) :

On Ladder climbing: "This practice in condusive to the maintenance of balance, to exercising caution in dubious situations, and to the strengthening of the hands and arms. We lean a wooden ladder against a wall; beginners learn without fear to go up and down. Then, as on a stairway, they go up without using their hands. They also practice on the rear or under side using the hands and feet. But as gymnasts, they also climb the rear side with hands alone, prohibiting the feet. In these situations the pupil is compelled to hang onto a rung, change hands on the rung, then reach for the next rung while his body hangs perpendicular.

In addition, he might climb up the under side, squeeze through the rungs at the top, and descend on all fours, with the head down and feet above. Herewith he hangs carefully with a foot hooked over a rung, alternating hands moving down. Another, wanting to test his flexibility, winds like a snake through successive rungs, from top to bottom. A third climbs the ladder the usual way, but once up he circles to the underside and climbs down without using his feet. A fourth climbs to the middle of the ladder, clasps the ladder firmly, and turns it around so that its front becomes its back, against the wall.

These little feats can be learned gradually. A ladder having eleven rungs is long enough. The gymnast must be ready to support and hold the beginner - only one can practice at a time."


---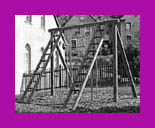 The small photo on the left is a scaled replica of Jahn's Der Zweibaum. He had taken the climbing frame, due (probably) to his predecessor J. Guts-Muth, and added braces and inclined ladders.