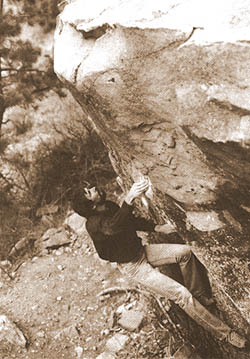 Chris Jones
:
F
irst, let me explain that this is the American climber and boulderer, Chris Jones, not the British author. I met Chris in the early 1980s when he was living in Colorado and a member of the "John Sherman Group" – consisting of the Verm, Jones, Shannon, Williams, Blunk, and a few others. I was immediately struck by how similar our attitudes about bouldering and soloing were. At that time I suspect Chris was one of the strongest boulderers in America. He and I (and very few others) were proponents of true
power bouldering
. Chris had by that time reached the level of strength necessary to do several one-arm pull-ups, a one-finger pull-up, and one-arm pull-ups on small ledges. These were muscle feats I had promoted back in the late 1950s, and Chris carried them to high levels of competence.
W
e both felt that arm-intensive boulder problems, regardless of "difficulty" ratings, were a proper venue of
rock gymnastics
. Small, crimpy hold routes – of course – were, and are, in vogue for expanding the V-scale, but arm, shoulder, and upper torso strength lead the way to the modern climbing counterpart of apparatus gymnastics.
Pinch Overhang 1980s
C
hris and I held similar views of soloing, as well. We both delighted in moving up terrain that allowed freedom of choice – "menu" or "option" soloing – so that one could push whatever bounds one wished on a particular day. We scrambled over the cliffs near the top of 12,000' Twin Sisters in Estes Park on one occasion, choosing our paths here and there wherever we felt inclined. He and I also did several long, unroped climbs at Hardscrabble Pass, near Pueblo, my home territory for many years.
---
O
f all the great climbers I've had the privilege to climb or boulder with over the years, Chris stands out as a singular advocate, both philosophically and physically, of the views of the sport I most admire. He and I appreciated the value of strength applied to the rock – not necessarily in alignment with the most efficient way to execute a move. But for some sort of kinesthetics coming from certain types of athletic motion. An example – my last, at the age of 50 before ripping my right biceps off the bone – was the
Tarzan Traverse
at Little Owl Canyon, a problem resembling an iron cross on rock, where the feet merely tag along, hanging freely and shifting subtly to provide counter balance for reaching and transitioning weight, suspended by the arms on sloping handholds. It might be possible to use the feet more energetically, using a heel hook or two, but coming off in this position would be unfortunate, with the hard and uneven bedrock below, pads or no pads. (unless you use a half dozen or so). But the
problem
(as opposed to the
route
) has a certain visceral appeal - macho if you like. I put it up, but Chris improved it with a nice straight up finish.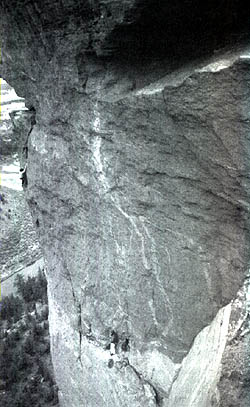 C
hris wasn't always the powerhouse he became in the 1980s and 1990s. He started climbing in 1970, and bouldered occasionally through that decade in rather undistinguished style. That was before he discovered the delicious attributes of strength. After toning up and empowering his body, his accomplishments rose dramatically (Alan Watts was a protégé of Chris's). The magnificent Jones opened up bouldering at Smith Rock, and then, to make a point, initiated the practice of bouldering on lead – protected by bolts – at Smith, surely a precursor to sport climbing there and elsewhere. He did this on the
Monkey Face
in 1979, leading 5.11b pitches using chalk and bouldering expertise.
Jones leading on Monkey Face 1979

Q
uiet and highly intelligent, Chris holds a degree in physics. He was slyly pleased to be a member of the
American Vacuum Society
– and knew all possible puns springing there from. He now lives with his wife in Oregon.
---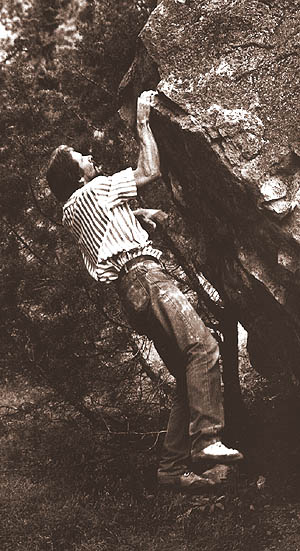 A
s an example of the lengths Chris went to to emphasize the use of the arms and shoulders on boulder problems, consider his one-arm, no-feet attempt on
Red Clot Rock
at Smith. Without knowing it, he attempted to emulated – actually advance - feats performed by Victorian strongmen who jumped from one rung to the next on the underside of oblique ladders using only one arm. Chris wasn't able to complete the problem, but he did reach 23.5 inches, surely some sort of record for one-arm hops!
Red Clot Rock
I
don't think Chris ever attempted the 20' competitive rope climb described elsewhere on this website, but if he had he would have done very well indeed. At 6' and perhaps 165 pounds, he would have been a natural for this former gymnastic event, considering his incredible arm strength.