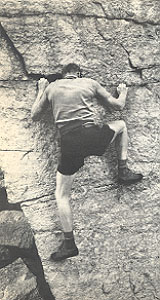 John Stannard ca. 1970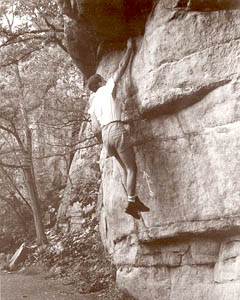 JG ca. 1964




Free climbing was introduced to the

Shawangunks

by Fritz Wiessner in 1935. He had begun climbing in the Dresden area of Germany, pioneering free climbs there in the 1920s. Although accepting the shoulder stand as a legitimate maneuver, he strongly opposed using pitons for artificial aid. It appears from some of the courageous leads he did in the 'Gunks, that he may not have countenanced top roping, but this author only speculates on the issue, never having met Wiessner. Hans Krause may actually have exerted a more profound influence on early 'Gunks climbing. But, whereas Wiessner viewed the short climbs there as perfectly legitimate climbing projects, Krause apparently thought of them primarily as practice for grander adventures. Neither Wiessner nor Krause bouldered in the area.





Rich Goldstone,

Dick Williams

,

Steve Larson

,

Jim McCarthy

,

John Stannard

and others bouldered in the Gunks in the early and mid 1960s. As for the origins of the sport there, Goldstone, with characteristic modesty, provides the following: "

I

think it is fair to say that Dick

(Williams)

invented bouldering in the Gunks. Originally motivated by light-hearted attempts by Dave Craft to climb something short, Dick got bit by the bouldering spirit and went about specifically looking for short problems, both in the Gunks and on boulders in Van Cortland Park near his home. He also came from a gymnastics background and . . . really excelled at dynamic technique. Dick was soon joined by Steve Larsen, another climber with a gymnastics background, and together they did some bouldering that nowadays is viewed as V2 (or 5.11). Two of their boulder problems on the Chockstone Boulder had continuations (5.9 to 5.10) that were led by Larsen and Williams."





J

im McCarthy and friends also started bouldering in Central Park about this time. When I made a couple of brief visits to the 'Gunks in the mid 1960s, I merely added a few additional problems to a number of existing ones.