www.johngill.net

Bouldering Companions

---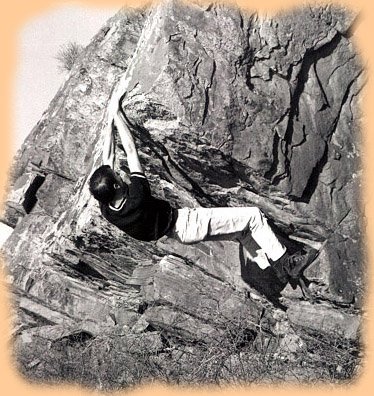 Rich Borgman : (Richard Borgman) This photo was taken in 1969 near Rotary Park. When I first arrived in Ft. Collins in the late summer of 1967 and discovered the potential sandstone playground at Horsetooth Reservoir, I began searching for a bouldering companion. I asked the men's gymnastics coach if he knew any gymnasts who were also climbers, for there didn't appear to be any boulderers in the community. He said "You should talk to Rich Borgman - he's one of my pommel horse specialists and he can climb all over the inside of this gym!" I met Rich and described the sort of climbing I had in mind for Horsetooth and his eyes began to sparkle. He had never heard of bouldering, but it sounded like just the kind of climbing he'd like to do.


Reach Overhang 1967


He had recently taken an unroped fall off the east face of Longs Peak in the middle of the winter, and had survived several hundred feet of bouncing off blocks and sliding nearly to Chasm Lake because he was so light and was wearing a couple of down jackets. He was through with mountaineering.


---


For the next two and a half years Rich and I and occasionally others explored and climbed rocks all around the reservoir - challenging and supporting each other - establishing one of the great bouldering areas of America. Here's a shot of Rich toproping below the Torture Chamber in 1969. During this time Rich was a graduate student in the microbiology program at CSU, and was married, with two small children. He and his family lived in a small trailor park for students, just off campus. He had boundless energy, rising at 4:00 am to do an early morning stint as cook at the Village Inn, then to classes and work as a lab assistant, and in the late afternoon, out to Horsetooth. I don't know how he did it.



---


In 1970 or 1971, about the time I left CSU, he and his family became missionaries, and he spent many years in Africa - Abidjan, I believe - working with prison inmates and others. He worked with Chuck Colson, one of Nixon's Watergate conspirators, in setting up rehabilitation programs in prisons. Years later he and his family - the children grown - moved to France and began missionary work there. I talked with him for a few minutes on the phone on the occasion of his 60th birthday a year or so ago, and he confided that he still has fond memories of our adventures in Colorado and thinks of them often.

Within the past couple of years Rich and his family became Roman Catholics, and Rich now works as a lay person for the Church. My hat is off to my old friend: one of the top boulderers of his generation and a man of deep spiritual commitment. (There is much more to life than blouldering) (2004)


---