Some Recollections on the Origins of Bouldering in Australia


By Ted Cais

I was fortunate to have been a young protégé of Albert A. Salmon, who pioneered the first golden age of Australian climbing around Brisbane in the 1930's, and to have participated in the second great era from 1960 to 1975, when technical difficulty approached world standards, at least in the crack climbing developments led by Rick White at Frog Buttress.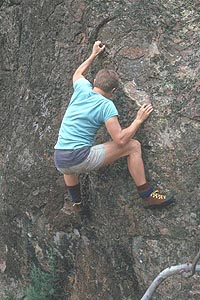 This background provides me with a unique insight into the origins of bouldering there, even though it excludes similar interstate activity in Sydney and Melbourne that evolved rather independently owing to geographic isolation. These capital cities also had their local climbing clubs and regional bouldering spots (Lindfield Rocks and Hanging Rock, respectively) that were utilized from at least the mid-1950's.

(Cais on a John Moore boulder problem at Hanging Rock, Victoria 1970 - Photo by K. Jensen)


Australia was first strongly influenced by Britain, being a far-flung outpost of the Empire, but developed its own frontier spirit appropriate to a new colony with vast spaces and a small population, in contrast with England's village culture. The area is blessed with good weather and an abundance of crags close to urban centers. Early climbing evolved as an extension of hiking (known as bush walking) and focused on exploration and the capture of new summits by the line of least resistance.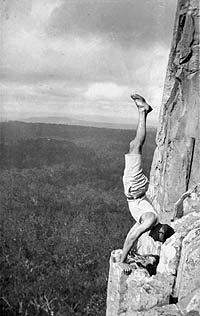 Salmon was a tireless walker who achieved many first ascents of major rock peaks in southeast Queensland. He was eccentric with strong convictions and a personal ethic that excluded the use of rope and other forms of protection as unsporting. For safety, he relied on three points of contact with the rock and leg power, so hiking long distances over rugged terrain was necessary and sufficient training, although he did have natural gymnastic talent. His favored climbing shoe was the plimsole or tennis sneaker (called sandshoes in Australia) unlike the rigid nailed boot used contemporaneously in England. He rarely sought out intrinsic difficulty for its own sake because he had to be certain he could safely stay attached if a hold broke and downclimb unaided.

(Salmon doing a head stand on the East face of Crookneck in the Glasshouse Mountains, north of Brisbane circa 1929)


Perhaps his most visionary achievement was the first solo ascent of "Fly Wall" at Katoomba, in the Blue Mountains just west of Sydney in 1934. This certainly can be regarded as a "highball" boulder problem. Salmon's usual limit (based on the three-point contact rule) approached 5.6, but on that day he excelled himself under the challenge issued by Dr. Eric Dark, another significant historical figure in Australian rock climbing. The difficulty may well have been 5.7, corresponding to the first "Very Severe" or VS on the English scale.

Of course this difficulty pales in comparison to earlier European achievements like those of Oliver Perry Smith (Elbsandstein) and Paul Preuss (Dolomites) but Australia was so parochial at the time they had to build local standards from scratch without the benefit of outside knowledge. Salmon collected an extensive library of books, but most were on Himalayan and Alpine adventures and hardly relevant to technical rock climbing.

It took another 30 years for Australian standards to break the 5.10 barrier. The leading exponents in the 1960's were Bryden Allen and John Ewbank, both British expatriates living in Sydney. Their firsthand experiences of overseas climbing and natural abilities accelerated the pace of development to these levels in our neighboring State of New South Wales. Allen brought the first PA climbing shoes to Australia and invented the "carrot" bolt with removable hanger.

I was still in high school in 1962 when Salmon introduced me to many of his climbs, but his strict ropeless ethic inhibited my development. I joined the school rowing team (crew) and started weight training that soon conveyed benefits for climbing in a more aggressive style utilizing upper body strength. Before then the application of dynamic movement was regarded as inappropriate under the old culture of "the leader never falls".

As far as I know I was the first Australian climber to systematically train with weights and still believe the power clean with bodyweight is one of the best overall exercises. Unfortunately the development of climbing flexibility and finesse became neglected in this obsession for raw power.

Up to this point bouldering never was taken seriously as a sport in its own right. We had the conventional view it was a game or trifling diversion from real climbing involving multi-pitch roped ascents of large cliffs. Moreover there are few acual boulders in Brisbane that, by virtue of limited height, would focus our efforts suitably. The favorite training ground was Kangaroo Point, a 20-m quarry face that encouraged toproping, although I added several hard boulder problems on a smaller section of the cliff

(W1)

.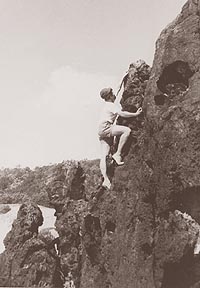 The sea cliffs at Noosa and Stradbroke Island were early popular bouldering venues since the sandy beaches made for safe landings. Salmon climbed there extensively, even if this activity was an adjunct to a social surfing party. Manmade structures like buildings and bridges were popular too since they offered long traverses at a comfortable height. Naturally these favored endurance over absolute technical difficulty.

(Cais bouldering at Point Lookout, Stradbroke Island, 1962 - photo by A.A.Salmon)


The closest classic boulders were in Stanthorpe, an outlying provincial town where the surrounding fields are littered with coarse-grained granite boulders. I first visited the area in 1962 with the primary objective of scaling every boulder. Even the simplest way up could be challenging thanks to the rounded and overhung sides.

I would say bouldering for its own sake, that is the desire to execute a specific sequence of intense movements, started in the early 1970's. This was enabled by our discovery in Toohey's forest of a small boulder field nestled in the trees of a local suburb that offered a texture like gritstone with small nubbins to tweak on. For the first time individual problems were marked, a circuit established and difficulties attained V1.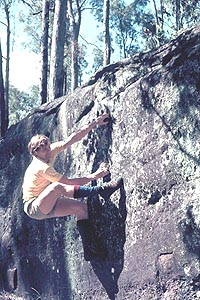 (Cais at Toohey's forest in 1974 - Photo by K. Jensen)

Around this time we outgrew our British heritage and learned of the exciting developments in the USA that culminated in Rick White's first Australian ascent of The Nose and Salathe Wall in 1973. I was inspired by an article on John Gill to try "chalk" in the same year. Alas, I didn't realize it should have been magnesium carbonate and used "rosin" instead. It was a short-lived experiment that generated a sticky mess in the Australian heat! Proper chalk was not adopted till after the visit of Henry Barber in 1975.

These early beginnings were replicated elsewhere in Australia at similar times but none were significant breakthroughs in the wider international context. These were left up to the Australian tennis players, swimmers, distance runners and cricketers, to cite a few sports. Still, these few pioneering climbers laid good foundations for succeeding generations to participate with the best.






WEBSITE:

W1

Kangaroo Point 1968 http://members.tripod.com/tecais/