www.johngill.net

Bouldering Companions


---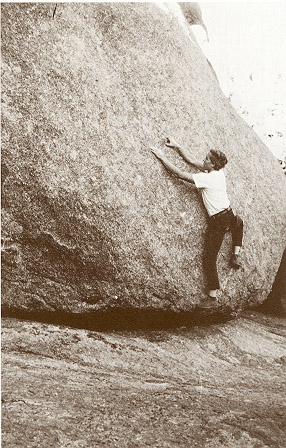 Pat Ament : Pat and I first met in 1967, just after I had moved to Fort Collins. This photo of Pat was taken by me as we bouldered along the Gem Lake Trail in 1968. The friendship that resulted from that first encounter has lasted 36 years. Although ten years my junior, we had, in common, the most important thing two climbers can have in common: remarkably similar perspectives of our craft.

We were both gymnasts, and Pat, independantly, had started using chalk in climbing only a few years after I had introduced it elsewhere. We both viewed rock climbing as an extension of gymnastics. What I had in pulling strength, Pat had in pressing strength. He could do a hollowback press to handstand from the floor, followed by a number of handstand push-ups. He once held a one-arm handstand on the parallel bars for 18 seconds (I don't think I ever went beyond 5). Along with one-arm mantels on the rock, he could also do a very slow and controlled muscle-up on the high bar, rotating both elbows simultaneously – a very difficult feat.

But, most importantly for our friendship, we were aware of spiritual or mystical dimensions of the sport. We also thought of our climbing as an artistic endeavor.

Off the Gem Lake Trail 1960s


Pat is a significant artist. He is a prolific writer, having written literally dozens of books about various aspects of climbing, including an original guidebook "High Over Boulder", that set benchmarks for precision and accuracy. He is a composer, pianist, and singer, and his line drawings are superb. He is also, and fundamentally, a poet. The balance he has achieved between the physical realm – including being a black belt Karate instructor – and the artistic or spiritual realm is extraordinary.

Now , for a few words about his climbing feats. Besides setting new bouldering standards at Flagstaff Mountain, in Boulder, during the 1960s, he made significant climbs in Colorado and Yosemite. Pat's ascent of Supremacy Crack in Eldorado Canyon at the age of eighteen in 1965 established one of the hardest short climbs in the country. He authored the first 5.11 in Yosemite - the Center Slack at the base of El Cap - as well. He is also a true master of safety in climbing , having the ability to place adequate protection in even the most barren of traditional climbs. Pat was a leading innovator and experimented with various approaches to rock climbing during a transitionary era, fraught with ethical dilemmas, toward the end of the Golden Age. He raised a few waves because of this and because of a powerful intellect and a quiet but forceful attitude, not averse to philosophical and verbal argument.


---
---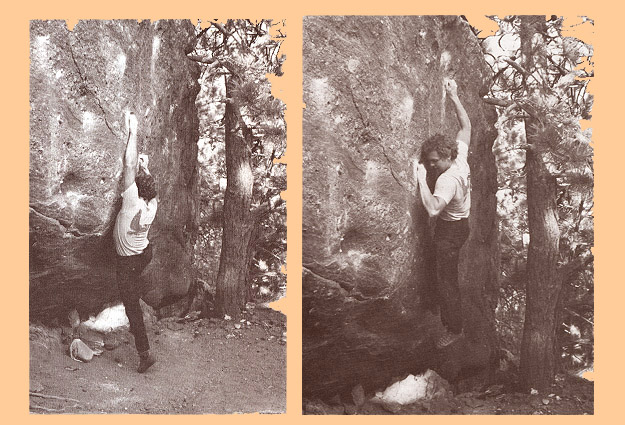 Pat's famous Red Wall Problem - Flagstaff Mountain 1970s


---
---

He has weathered these minor squalls with determination and resiliency, and to some extent, I think they define him. He is a rare renaissance man in an age of increasing specialization. The only true poet I know who weaves his spell upon the rock as well. (2003)

For those of you interested in learning more about this great old friend of mine, I recommend Pat's Stories of a Young Climber – an Autobiography . By the way, Pat Ament has a great new book : Everything That Matters (2004)